Registration now open for the 2018 OKPVRI Annual meeting and symposium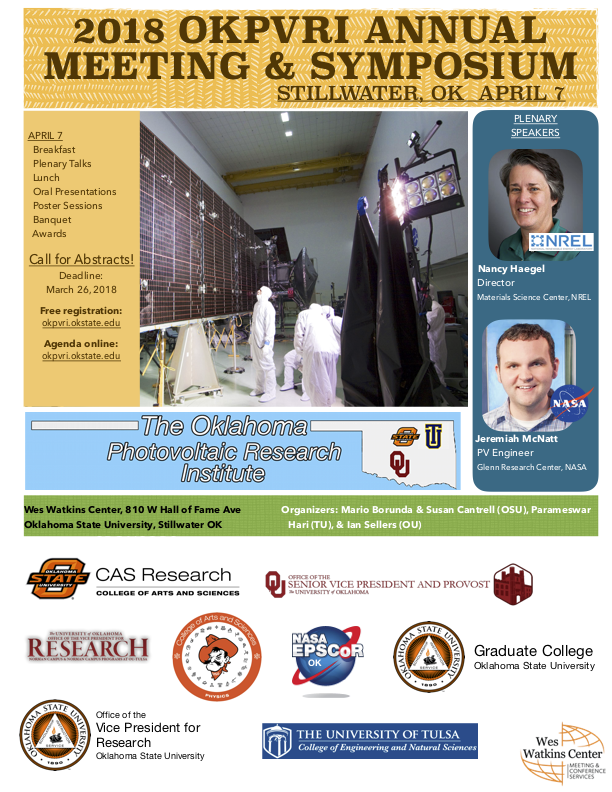 PDF of Poster (print quality)
The 2018 OKPVRI Annual Meeting and Symposium will take place April 6 and 7 at Oklahoma State University.
Dr. Haegel and Dr. McNatt will be plenary speakers. We anticipate up to six oral presentations by student and at least twenty poster presentations.
The deadline to submit abstracts and register is March 26th. To submit your abstract, please click on the following link to confirm your REGISTRATION.
The meeting will allow for fruitful collaborations among members of the institute and the introduction of new and prospective members. We strongly encourage the attendance of everyone interested in photovoltaics and renewable energy throughout the Sooner State. Sponsors of the meeting include the College of Arts and Sciences at OSU, the office of the Senior VP and Provost of OU, the office of the VPR at OU, the Physics Department at OSU, the OK NASA EPSCoR Office, the Graduate College of OSU, the office of the VPR at OSU, and the College of Engineering and Natural Sciences of UT.
Important dates:
March 26 - deadline for registration
March 26 - deadline for abstract submission
March 31 - notification of acceptance for oral and poster presenters
April 6 - Meeting
April 7 - Symposium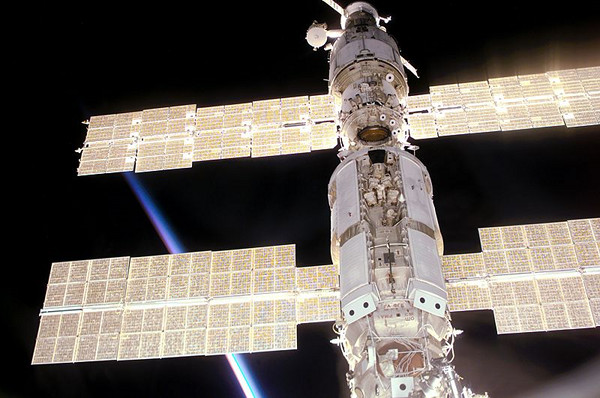 Oklahoma Institute for Photovoltaic Research
Numerous discussions between colleagues at TU, OU and OSU contributed to the creation of this institute. The idea of a PV research institute at Oklahoma started in 2013 and evolved over a period of two years. A Meeting was held at Dr. Blais' office (TU provost) in spring 2014 to discuss the creation of a new interdisciplinary, inter-university institute. The strong support from the Vice President for Research at OU and OSU's Arts & Sciences Dean for Research in 2015 led to the formation of the interdisciplinary, inter-university Institute that started on 2016 July.
Goals:
To design, model and fabricate new generation of cost-effective photovoltaic (PV) cells
To foster interdisciplinary research between faculty and students in Physics, Chemistry, and Engineering disciplines in Oklahoma universities
To share PV research resources between Oklahoma's three major research universities
To collaborate on PV research for attracting funding from private, state and federal agencies
To promote PV technology in Oklahoma
To develop joint PV research projects between the three major research universities in Oklahoma
Why a PV research institute?
PV research is interdisciplinary research
PV research requires expertise in Physics, Chemistry, Materials, and Electrical and Mechanical Engineering
We aim to develop, design, and fabricate cost-effective 3rd generation solar cells
3rd generation solar cells are currently under development as the cheap alternative to silicon based solar cells